Fire Chief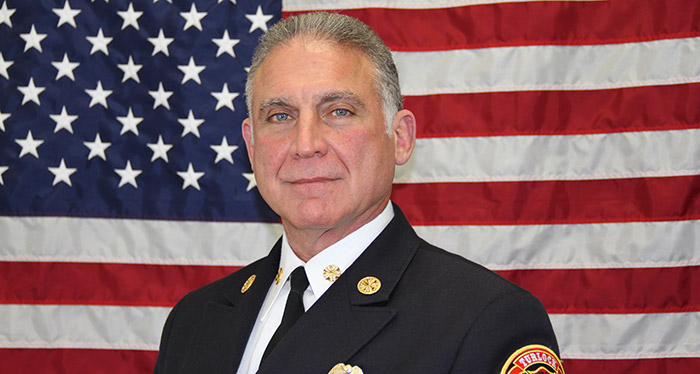 Robert A. Talloni
Fire Chief and Emergency Management Director
National Fire Academy, Emmitsburg, MD – Instructor for Fire Chief Courses
Emergency Medical Technician (EMT) - Certified
International Association of Fire Chiefs (IAFC) – Member
International Association of Fire Fighters (IAFF AFL-CIO-CLC) - Retired Member
Education
Master's Degree in Public Administration
University of New Haven, West Haven, CT
Bachelor of Science Degree in Fire Science Administration
University of New Haven, West Haven, CT
Certificate Programs – University of New Haven, West Haven, CT
Hazardous Materials
Industrial Fire Protection
Fire Prevention
Arson Investigation
Educational Awards
University of New Haven, West Haven, CT
Graduate Degree: Sigma Beta Delta; International Honor Society in Business, Management and Administration.
Undergraduate Degree: Alpha Sigma Lambda National Honor Society.
Emergency Management Institute (FEMA)
Certificate of Achievement
Federal Emergency Management Agency (FEMA):
National Incident Management System (NIMS): 112 Certifications - including IS 100, 200, 300, 400, 700, and 800.
Emergency Management Coordinator (EMC)
Professional Level, Certified May 2013
Advanced Level, Certified: May 2012
Basic Level Certified, May 2011
Pennsylvania Emergency Management Agency (PEMA): Eight (8) Certifications - including Terrorism and Emergency Planning.
Experience
Harrisburg, PA (Capital City) Bureau of Fire - Retired: Fire Chief, Fire Marshal, and Emergency Management Coordinator, Director of City's Crisis Management Team - 4 years.
Norwalk, CT Norwalk Fire Department – Retired, 29 years of Service, Ranks held: Deputy Chief, Deputy Chief of Departmental Training, Captain, Lieutenant, Fire Inspector and Firefighter/EMT – Fire Union Local 830 - Ranked 1st on every Promotional Exam.
Connecticut Fire Academy, Windsor Locks, CT
Retired: Chief Instructor for Hazardous Materials Programs
Advanced: Instructor to Senior Instructor to one of only six State Chief Instructors
Bridgeport Military Academy, Bridgeport, CT – Former Instructor
Former Sponsoring Agency Chief for Pennsylvania Task Force One, Urban Search and Rescue, FEMA Special Operations.
Former Board of Director Member: Community LifeTeam Ambulance, Pinnacle Health Hospital Emergency Medical Services
Promotional Exam Oral Assessor – Most recently The City of Philadelphia Fire Department, PA; City of Lancaster, PA; City of York, PA; Fredericks County Fire and Rescue, VA; City of Bridgeport, CT; Merced Fire Department, Merced, CA.
Featured Speaker for Neighborhood Community Events, Private Organizations, Public Functions, and upon request.
Training
National Fire Academy Training, Emmitsburg, MD
Fire Chief Courses
Incident Command System (ICS)
Command & Control of Incident Operations
Fire Arson Detection
United States Environmental Protection Agency
Hazardous Materials Instructor Training
Emergency Response to Hazardous Materials Incidents
Pro-Board Professional Certifications
Incident Command System (ICS)
Hazardous Materials Technician
Safety Officer
Fire Service Instructor II, I
Fire Officer II, I
Firefighter III, II, I
Pump Operator
Citations Most Valued
Extraordinary Patriotic Service Award: Veterans of Foreign Wars 603 Norwalk, CT
Vietnam Veterans Appreciation Award: Norwalk, CT
Meritorious Service Award: Disabled American Veterans, Norwalk, CT
Distinguished Service Award, Greater Norwalk, CT Chamber of Commerce
Award of Recognition, Greater Norwalk, CT Chamber of Commerce
Proclamation - Mayor, City of Harrisburg, PA
Previous Turlock Fire Chiefs