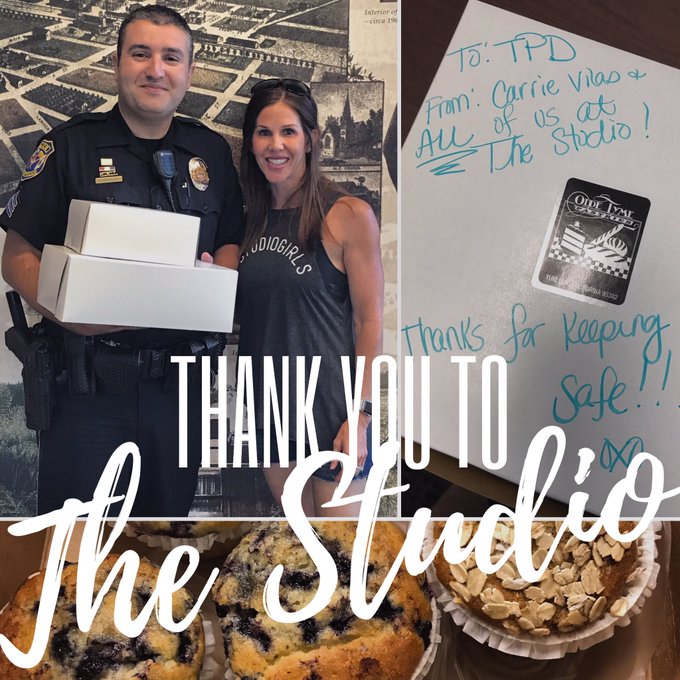 Thank you to The Studio for dropping off muffins for officers this morning as a special thank you! @ChiefAmirfar
Posted on Twitter 1 day ago
Thank you to National Market for your donation for National Night Out! ❤️❤️ #TurlockNNO2017 #turlockpolice #turlockpd #turlock City of Turlock - Parks, Recreation & Public Facilities Department City of Turlock - Fire Department
Posted on Facebook 1 day ago
Thank you to Costco for your donation for National Night Out! ❤️❤️ #TurlockNNO2017 #turlockpolice #turlockpd #turlock City of Turlock - Parks, Recreation & Public Facilities Department City of Turlock - Fire Department
Posted on Facebook 1 day ago
Thank you to The Studio for dropping off muffins for officers this morning as a special thank you for all of their hard work keeping our city safe! #turlockpd #turlockpolice #turlock
Posted on Facebook 1 day ago
Thank you to Costco for your donation for National Night Out! 💙-46222833;💙-46222833; #TurlockNNO2017 #turlockpolice #turlockpd #turlock @turlock.recreation
Posted on Instagram 1 day ago
Thank you to National Market for your donation for National Night Out! 💙-46222833;💙-46222833; #TurlockNNO2017 #turlockpolice #turlockpd #turlock @turlock.recreation
Posted on Instagram 1 day ago
Thank you to The Studio for dropping off muffins for officers this morning as a special thank you for all of their hard work keeping our city safe! 😊👍🏼
Posted on Instagram 1 day ago
Two of our Detectives are giving blood at the Annual City of Turlock Blood Drive! Way to go guys! #turlockpd #turlockpolice
Posted on Facebook 2 days ago
Thank you to Farm House for your donation for National Night Out! ❤️❤️ #TurlockNNO2017 #turlockpolice #turlockpd #turlock City of Turlock - Parks, Recreation & Public Facilities Department
Posted on Facebook 2 days ago
The City of Turlock invites you to
Stand Behind the Line
Unveiling & Dedication
Join us to show support for the Heroes of Our Community, Police, Fire & Communications Center
Posted on Facebook 2 days ago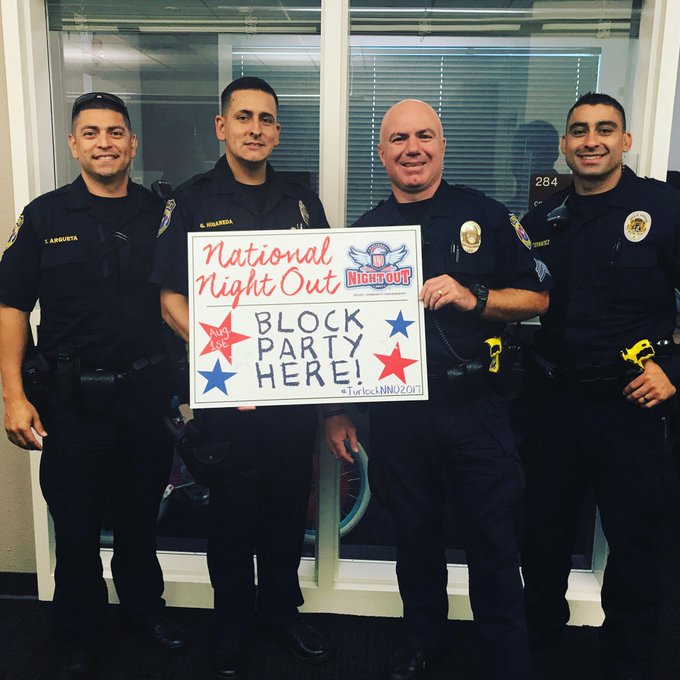 If you registered as a block party for NNO you'll receive one of these cool yard signs! #TurlockNNO2017 @ChiefAmirfar
Posted on Twitter 2 days ago
Two of our Detectives are giving blood at the Annual City of Turlock Blood Drive! Way to go guys! 🚑🚓🏨💉
Posted on Instagram 2 days ago
Check these out! If you registered as a block party for National Night Out you'll receive one of these cool yard signs to post so your neighbors will know who's hosting your neighborhood block party!
#TurlockNNO2017 #turlock...
(read more)
Posted on Facebook 2 days ago
Thank you Sandra for sharing! Looks like Officer Briggs had a special visit with these girls at this lemonade stand!
#turlockpolice #turlockpd
Posted on Facebook 2 days ago
Thank you to @farmhouseturlock for your donation for National Night Out! 💙-46222833;💙-46222833; #TurlockNNO2017 #turlockpolice #turlockpd #turlock @turlock.recreation
Posted on Instagram 2 days ago
These pictures that were shared to us on our Facebook page are just too good not to share on our IG page too! Officer Briggs was out Saturday and stopped to visit these girls working a lemonade stand! 🍋
Posted on Instagram 2 days ago
Check these out! If you registered as a block party for National Night Out you'll receive one of these cool yard signs to post so your neighbors will know who's hosting your neighborhood block party! 🎉😎👍🏼
Posted on Instagram 2 days ago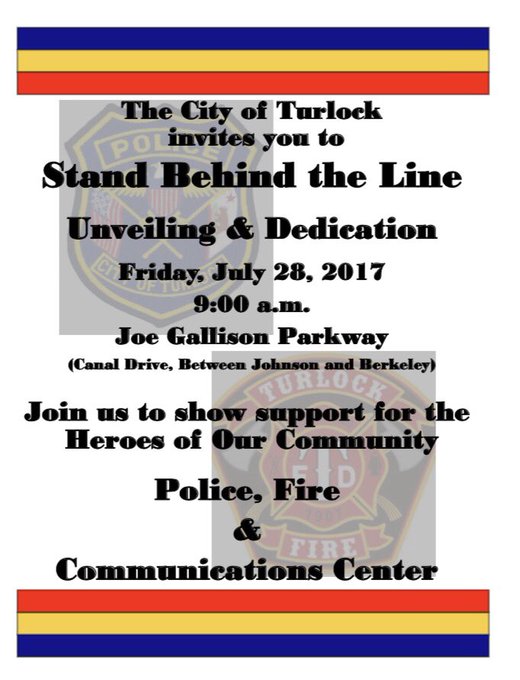 Stand Behind the Line Unveiling & Dedication event: 7/28 @ 9am @ChiefAmirfar @TurlockFire
Posted on Twitter 5 days ago
The City of Turlock invites you to:
Stand Behind the Line
Unveiling & Dedication
Friday, July 28th at 9:00am
Please view flyer for more details
#turlock #turlockpolice #turlockpd City of Turlock - Fire Department
Posted on Facebook 5 days ago