Parks Arts & Recreation Commission
The Parks, Arts and Recreation Commission is comprised of seven (7) members, appointed by the Mayor with approval from the City Council.
The Parks, Arts and Recreation Commission shall encourage, stimulate, promote and foster programs for the enrichment of the City and hereby contribute to the quality of life in Turlock and develop an awareness in the business community, in local government and in the general public of the value and benefits of the constructive use of leisure time in Turlock.
The Parks, Arts and Recreation Commission shall initiate, sponsor or conduct, alone or in cooperation with other public or private agencies and/or individuals, programs to further the development and public awareness of, and interest in, recreation, neighborhoods, community policing, youth master planning and senior master planning.
Applications for Commission positions may be requested from our administrative offices.
Parks, Arts & Recreation Commission Meetings
Current Commissioners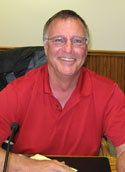 Brent Bohlender (Chair)
Mr. Bohlender is a lifelong Turlock resident. Served on the Park, Recreation and Community Programs Commission from 1988 to 2010, having stepped aside due to term limits and was re-appointed in 2012 following a one year absence. Mr. Bohlender is currently a member of Stanislaus County Park and Recreation Commission. A retired teacher, he has been active in the swimming and water polo commumity for over 40 years. He is currently coaching and/or directing Modesto/Stanislaus Water Polo, Johansen High School, and Turlock Aquatic Club. Mr. Bohlender has been married for 24 years with two children educated in Turlock public schools, Megan and Brian.