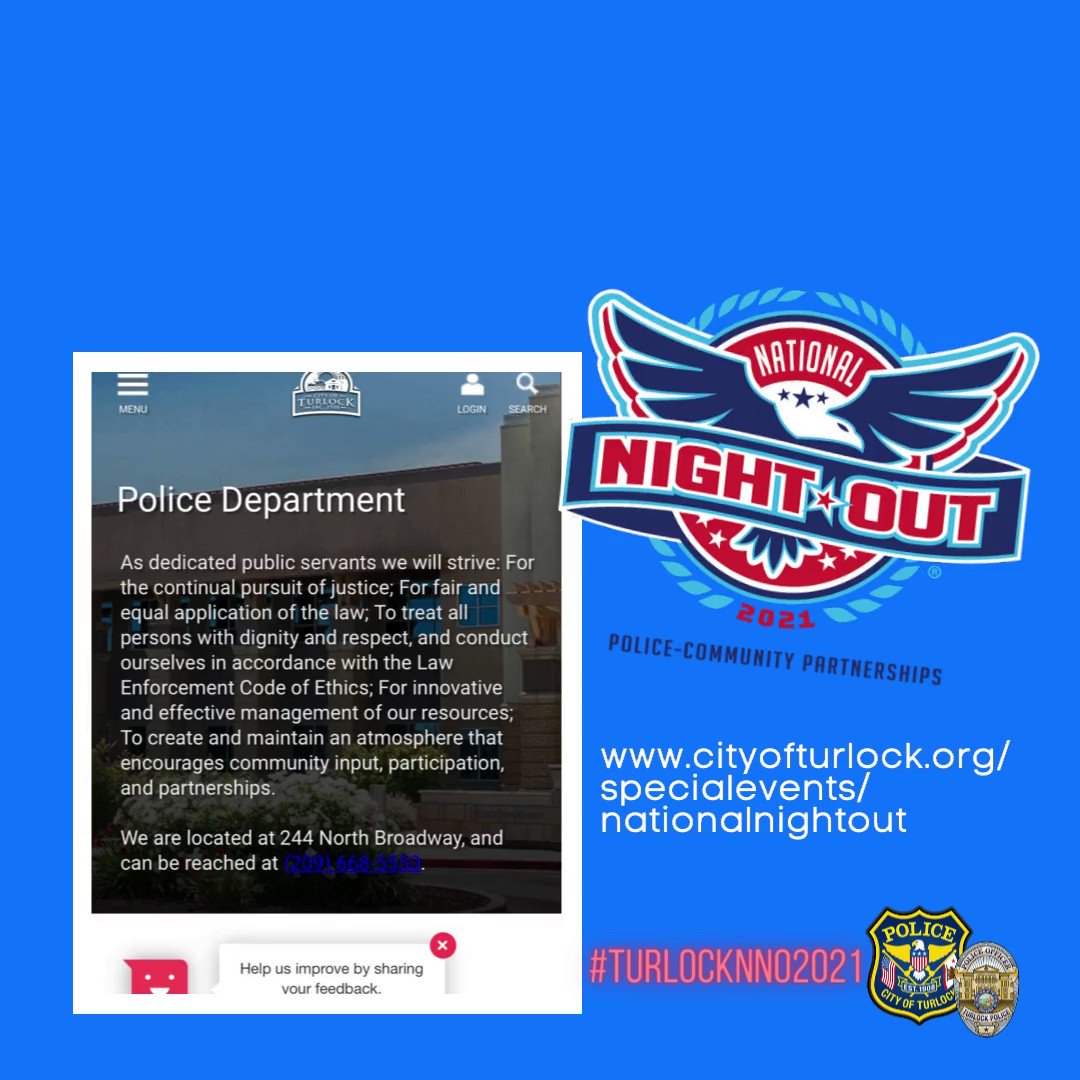 National Night Out is August 3rd! Have you registered your Block Party yet? Do it online! The deadline to register is July 16th! Link to register http://www.cityofturlock.org/specialevents/nationalnightout ... #turlockNNO2021 #turlock #turlockpolice #turlockpd
Posted on Twitter 1 day ago
🚨🚨 ATTENTION 🚨🚨 We have been made aware that the illegal driving activity and disturbances related to large groups of motorists gathering in the Monte Vista Crossings shopping area is still continuing. As a response, our officers will be out again this evening for extra traffic enforcement. As a reminder, please abide by ALL traffic safety laws, all Municipal Codes and drive safely. #turlock #turlockpolice #turlockpd
Posted on Facebook 1 day ago
National Night Out is August 3rd! Have you registered your Block Party yet? Do it online! The deadline to register is July 16th! 🇺🇸 🍔 🌭 🤗 #turlockNNO2021 #turlock #turlockpolice #turlockpd Link to register 👉 www.cityofturlock.org/specialevents/nationalnightout
Posted on Facebook 1 day ago
PRESS RELEASE: Arrest Made for Two Incidents of Arson and Willful Harm / Injury to Children https://local.nixle.com/alert/8792808/
Posted on Twitter 2 days ago
PRESS RELEASE: Arrest Made for Two Incidents of Arson and Willful Harm / Injury to Children On Wednesday, June 2, 2021 at 8:15 a.m., Turlock Police Officers were dispatched to the 500 block of Sunnyside Drive for an arson. Prior to police officers' and fire department personnel's arrival, a neighbor noticed the fire and ran across the street to awaken the three adults and three young children who were all sleeping inside. The neighbor alerted the residents and they all safely exited without injury. Upon arrival, officers were informed by the Turlock Fire Department that an incendiary device had been thrown, causing a fire to the residence. Turlock Police Detective Gina Giovacchini was assigned to the case and responded to the scene. Through the course of the investigation, she learned that there was a previous fire that occurred at the residence on May 24, 2021, that the residents extinguished themselves and did not report to the police at that time. It was determined that fire was also caused by an incendiary device. On June 21, 2021, Detective Giovacchini was able to identify the suspect responsible for both arsons, J.D. Dwaine Lucas, a 37 year old male from Turlock. On June 21, 2021, Detective Giovacchini determined a location where Lucas would possibly be. He was located and taken into custody without incident. Lucas was booked into the Stanislaus County Jail and charged with eight felonies including two counts of arson on an inhabited dwelling and six counts of willful harm or injury to a child; which is the result of the three children inside the residence both times the fires were intentionally set. Anyone with any information regarding this case is encouraged to contact Detective Gina Giovacchini by calling (209) 668-6539. ### The Turlock Police Department is an active participant in the Crime Stoppers Program. Callers can leave an anonymous tip by calling Crime Stoppers at (209) 521-4636 and may be eligible for a cash reward. To receive more detailed, up-to-date information directly from the Turlock Police Department via e-mail or text message, register for "Nixle" alerts at www.Nixle.com or more directly at https://local.nixle.com/register/. Or, text your zip code to 888777 to receive text alerts only. For additional information, follow our social media pages on Facebook, Instagram and Twitter. This information is being released by Turlock Police Department Crime and Community Analyst Deandra Wiley. Any media requests should contact: Sergeant Michael Parmley Office of Professional Standards Turlock Police Department Office phone - (209) 668-7345 Email € mparmley@turlock.ca.us
Posted on Facebook 2 days ago
Rent/Mortgage/utility Assistance for those affected by COVID-19 for low income Turlock residents administered through Community Housing and Shelter Services. See flyers attached for information.
Posted on Facebook 2 days ago
This Saturday! Coffee with the Chief, 8:30 am - 10 am We will see you there! #turlock #turlockpolice #turlockpd
Posted on Facebook 3 days ago
Everyone Can Help Prevent Hot Car Deaths € Parents and Caregivers: 1. Never leave a child in a vehicle unattended € even if the windows are partially open or the engine is running, and the air conditioning is on. 2. Make it a habit to check your entire vehicle € front and back € before locking the door and walking away. Train yourself to Park, Look, Lock, or always ask yourself, "Where's Baby?" 3. Ask your childcare provider to call if your child doesn't show up for care as expected. 4. Place a personal item like a purse or briefcase in the back seat, as another reminder to look before you lock. Write a note or place a stuffed animal in the passenger's seat to remind you that a child is in the back seat. 5. Store car keys out of a child's reach and teach children that a vehicle is not a play area.
Posted on Facebook 6 days ago
The heat wave is upon us, make sure you LOOK before you Lock! 👀 🚗 The temperature inside of a car can rise nearly 20 degrees in only 10 minutes. A children's body temperature can rise five times faster than an adult, leaving children prone to heatstroke quicker. The Office of Traffic Safety encourages parents and caregivers to take extra precautions to make sure a child is not left or forgotten in the back seat: € Never leave a child alone in a car, even if you are running a quick errand, the child is sleeping or doesn't want to get € Make it a habit to look in the back seat before you leave the vehicle. € Keep a stuffed animal, purse, phone or wallet next to the car seat as a reminder. € Check in with a spouse, child care staff or caregiver when there is a change in schedules to verify the child was picked up or dropped. € Always lock your vehicle and keep the keys out of reach. Teach your child that a car is not a play. Heatstroke prevention also applies to pets, who face the same risks for heatstroke when left in a hot car. Keep your pets safe by leaving them at home unless you need them with you. If you see a child or pet alone in a hot vehicle: € Make sure the child or pet is okay and responsive. If not, call 911. € Try to find the parents or notify security or use a business or shopping center's PA system to alert the car owner. #turlock #turlockpolice #LookBeforeYouLock
Posted on Facebook 7 days ago
Tragically, 52 children died last year after being left alone in a hot car, a 21% increase, and the highest number in more than 20 years. Since 1998, more than 800 children have died from vehicular heatstroke. The temperature inside of a car can rise nearly 20 degrees in only 10 minutes. Even when it is only 70 degrees outside, the car temperature can reach triple digits in half an hour. A children's body temperature can rise five times faster than an adult, leaving children prone to heatstroke quicker. Common signs of heatstroke include red, hot and moist or dry skin, lack of sweat, dizziness, nausea, confusion, as well as being grouchy or acting strangely. The Office of Traffic Safety encourages parents and caregivers to take extra precautions to make sure a child is not left or forgotten in the back seat: € Never leave a child alone in a car, even if you are running a quick errand, the child is sleeping or doesn't want to get out of the car with you. € Make it a habit to look in the back seat before you leave the vehicle. € Keep a stuffed animal, purse, phone or wallet next to the car seat as a reminder. € Check in with a spouse, child care staff or caregiver when there is a change in schedules to verify the child was picked up or dropped off. € Always lock your vehicle and keep the keys out of reach. Teach your child that a car is not a place to play. Heatstroke prevention also applies to pets, who face the same risks for heatstroke when left in a hot car. Keep your pets safe by leaving them at home unless you need them with you. If you see a child or pet alone in a hot vehicle: € Make sure the child or pet is okay and responsive. If not, call 911. € Try to find the parents or pet owner. Notify security or use a business or shopping center's PA system to alert the car owner. #turlock #turlockpolice #LookBeforeYouLock
Posted on Facebook 8 days ago
Knowing when to use 9-1-1 or (209) 668-1200 when reporting fireworks & emergencies: 👉 If you know the address that fireworks are coming from use 9-1-1 👉 If you DON"T know the address that fireworks are coming from use (209) 668-1200 👉 Life threatening emergency, fires, injuries, in-progress crimes use 9-1-1 👉 Non-emergencies use (209) 668-1200 Let's all have a safe holiday, only use Safe and Sane fireworks. 🎆 🎇 #turlockpolice #turlockpd #turlock
Posted on Facebook 8 days ago
Knowing when to use 9-1-1 or (209) 668-1200 when reporting fireworks & emergencies: 👉 If you know the address that fireworks are coming from use 9-1-1 👉 If you DON"T know the address that fireworks are coming from use (209) 668-1200 👉 Life threatening emergency, fires, injuries, in-progress crimes use 9-1-1 👉 Non-emergencies use (209) 668-1200 Let's all have a safe holiday, only use Safe and Sane fireworks. 🎆 🎇 #turlockpolice #turlockpd #turlock
Posted on Facebook 8 days ago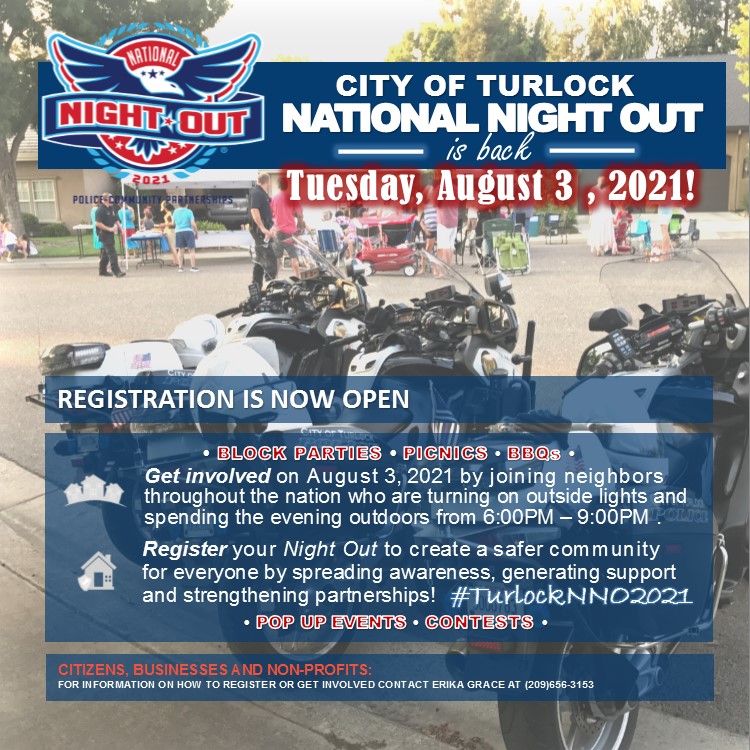 Mark your calendars, National Night Out is back after a year off and scheduled for Tuesday, August 3, 2021! #turlockNNO2021 #turlock #turlockpolice #turlockpd
Posted on Twitter 9 days ago