Kitty Caretaker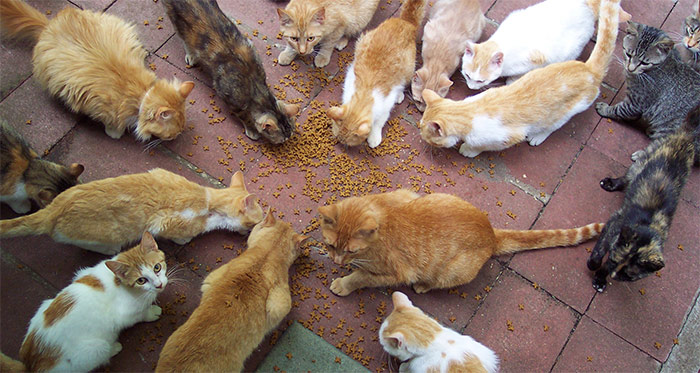 What to Do If You Are a Kitty Caretaker of Feral and Barn Cats
The New Ordinance
What the new ordinance is designed to do is stop unwanted litters of kittens. In an effort to curb the growing cat population in our city, a Pet Overpopulation Ordinance was developed which encourages pet owners to spay and neuter their cat. We understand that many people in our city take care of stray and feral cats. Registering your colony will increase the rate of feral cats being returned to their proper caretakers.
Feral or Stray?
Feral is not another word for "stray". A stray is a cat who has been abandoned or who has strayed from home and become lost. Stray cats can usually be re-socialized and adopted. Adult feral cats usually can not be socialized and will not adjust to living indoors or with a human family.
What is a caretaker?
A caretaker is a person or persons that provide food, water and shelter for feral cats. They are involved in a trap-neuter-release program to prevent pregnancies and unwanted birth of kittens.
What is Trap-Neuter-Release?
Trap-Neuter-Release is a proven procedure in which colonies of stray and feral cats are humanely trapped, then evaluated, vaccinated and spayed or neutered by veterinarians. Kittens and tame cats are adopted into good homes. Adult cats too wild for adoption are returned to their colony to live out their life.
Humane traps can be rented from the Animal Services Department. There is a $50.00 deposit and a $2.00 per day rental fee.
What do I do?
Register your colony. (Registration is provided at no charge)
Provide regular food, water and shelter to the cats in the colony.
Make reasonable efforts to participate in a T-N-R program.
Make sure all altered cats have their ears tipped for easy identification.
Microchips are strongly recommended. You may obtain one for $15.00 at City of Turlock Animal Services.
Make sure all the cats in the colony have been tested for FeLV and FIV.
Make sure all trapped cats are vaccinated for upper respiratory viruses and Rabies.
Have written permission from the owner if the property is not owned by the registrant.
What will Animal Services do?
Contact caretakers in the area if a feral cat comes in with a notched ear
Notify caretaker when feral cats are identified by microchip
Offer first impound at no charge to feral cats that are spayed / neutered and microchipped
Offer assistance with low cost spay / neuter programs
Need Help?
There are several cat rescue organizations in our area that may be able to assist you.
Feel free to contact:
Alley Cat Guardians: 566-2287
Felines First: 495-1548
Obtaining a Permit
For permit, please complete the following application and mail to:
City of Turlock Animal Services
244 N. Broadway
Turlock, CA 95380
Kitty Caretaker Permit Application