Get Fingerprinted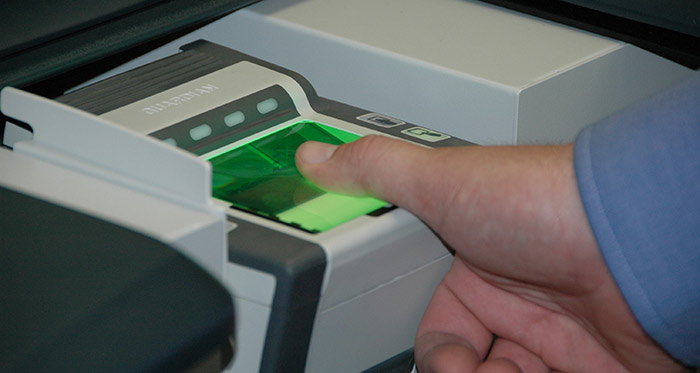 What is Live Scan?
A Live Scan is inkless electronic fingerprinting. The prints are digitized and transmitted directly to the Department of Justice (DOJ). The DOJ will check the fingerprints against known criminal history records. The DOJ will then send a response directly to the agency requesting the Live Scan, regardless of whether or not the applicant has a criminal history.
Turlock Police Department offers Live Scan fingerprinting
BY APPOINTMENT ONLY
. Appointments are available
Tuesdays between the hours of 10:00 am and 11:30 am.
Before an applicant can be fingerprinted, they must have the following:
A REQUEST FOR LIVE SCAN SERVICE form provided by their employer or licensing agency
Example of LiveScan Request Form


A valid State ID or Drivers License
Acceptable forms of identification


Fees
The Turlock Police Department charges a rolling fee of $25 for the fingerprinting services provided by our Live Scan technicians. There may be additional fees (see below).
Other Fees
Some employers choose to have the Department of Justice bill them at the end of the month. If an employer has chosen this method of payment there will be a Billing Number on your Live Scan form. If the Billing Number field has been completed by your employer you will only be charged the Turlock Police rolling fee of $25.
If the Billing Number field is left blank,you will be charged fees indicated by the Live Scan machine in addition to the Turlock Police Department's $25 rolling fee. The fees are based on the type of service requested by your employer.
Payment
Cash/MasterCard/Visa or Check (make checks payable to City of Turlock)
How long does it take to get the results?
In most cases, DOJ will send the results to the requesting agency listed on the Request for Live Scan Service form within 72 hours. Results can be delayed for various reasons. DOJ will contact the requesting agency for any significant delays. Once your Live Scan is completed at our facility, please direct all inquiries to the agency handling your employment or licensing.
What is Hard Card/Ink Card?
Some businesses request ink fingerprints on cards. These are not the same as a Live Scan, but we provide this service as well. If you were asked to get fingerprinted on a card, bring along the fingerprint card(s) and a valid form of identification. The fee for this service is $25 per card.