Fire Sprinklers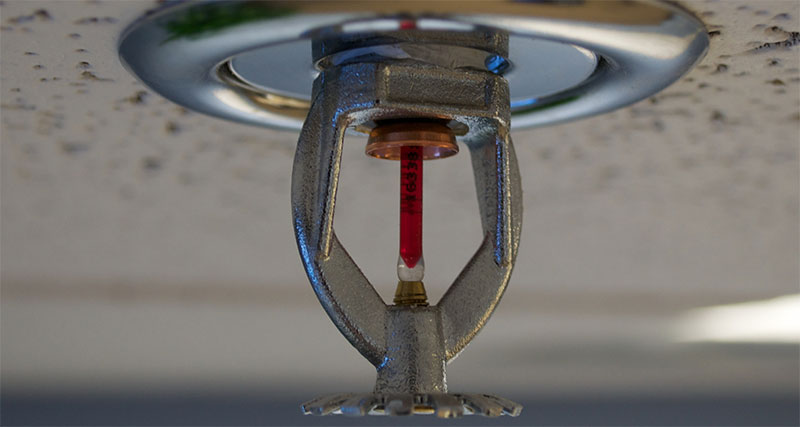 Fire Sprinkler Requirements
Please see Turlock Municipal Code Section 4-3-203 for fire sprinkler requirements.
Fire Sprinkler Plan Submittal and Inspection Process
Commercial submittal requirements for automatic fire sprinkler system are as follows:
Completed Sprinkler Permit Application (PDF)
Submit four folded sets of fire sprinkler plans and calculations. One set of architectural drawings is also required in fire sprinkler submittal package. If additional approved job sets are needed, they need to be provided at time of submittal.
A set of approved fire sprinkler plans must be on site before pipe is hung or any inspections are made.
Fire sprinkler plans must be signed by the licensed sprinkler company installing the system with the license number indicated on the prints. (B & P Code Section 5537.2 and 5537.4)
The completed application and plans must be submitted in person unless you contact a member of the Fire Prevention Bureau and make other arrangements. When the plan check process has been completed and the permit is ready to be picked up, the project plan checker will notify you that it is ready and the amount of the permit. The permit and approved plans must be obtained prior to scheduling an inspection. The permit and approved plans will be available at the Building Department front counter after notification, 156 South Broadway, Turlock.
Weld and outlet inspections are required before sprinkler pipe is hung. Pipe that is hung prior to inspection will be required to be removed and placed on the ground for inspection. A 200-pound hydrostatic test is required. Any area covered by drywall or insulation before inspection will be required to be exposed. Systems that are not fully braced will not be signed off until the system is completely braced as per approved plans. Call (209) 668-5542 x 1505 at least 48 hours in advance to schedule a 200-pound test.
Fees will include a $100.00 an hour plan check fee with an additional consultant cost of $25.00 each time a new submittal is sent to our outside plan checker, a $100.00 an hour fire inspection fee, a $50.00 fire record management fee, a $1.25 per head and an inspection and test fee of $165.00 per riser. One 200-pound test is included in the calculated price. Second test or phased testing will be charge at the fully burdened hourly rate of the inspector. (other fees may be included)
All required commercial fire sprinkler systems shall be monitored by an approved 24-hour central station.
All Fire Department connections shall be identified with an approved address attached.
All fire system underground plans are to be submitted to the City of Turlock Engineering Division for their approval and inspection. Plans are routed to the Fire Department during the engineering approval process. The Engineering Division is located at 156 South Broadway. The Engineering Department general phone number is (209) 668-5520
A final sprinkler system inspection will also be conducted before occupancy is granted. Call (209) 668-5542 ext 1505 to schedule the inspection. Due to a reduction in our staffing levels, you may experience a delay in us processing and responding to your requests. We appreciate your patience.
All required commercial alarms must be U.L. certified.